The global pandemic has forced all of us to sit at home. Hence, we have to come up with at-home entertainment like playing games, doing yoga, Zoom parties, watching movies and anime, and so on.
Let's stop on movies. During these uncertain times, lots of cinemaholics got the chance of a lifetime to watch literally everything they've ever wanted to but at some point just put it off. How to keep track of all these movies and how do you remember all the pieces you wanted to watch or the ones your friends recommended? 🤔
Seems like a tough one? Hell no!
Below, you'll see the list of the best apps that help you track movies or TV show you have watched, are watching or about to watch. Why wait any longer? Let's see the list!
1️⃣ Sofa: Downtime Organizer
Sofa helps you organize and track not only your TV shows and movies... And apps, audiobooks, books to music albums, podcasts, video / board games, and basically anything else.
How to track it all? Tap the + icon at the bottom and choose a desired option. From each category, you can add new items and mark them as done / unfinished. The downside? Limited info details. They only give you a short description with release date and length time.
Sofa works perfectly fine as a simple tool to organize your consumption habits. However, it lacks on several fronts such as social integration, stats, customization options, and more.
Price: Free (+ in-app purchases starting at $0.99)
2️⃣ JustWatch: Movies & TV Show‪s
Its initial task is to help you find out where to stream movies or TV shows online. The app list all offers for over 100 streaming providers in the US alone. JustWatch works perfectly in many countries and isn't limited to a specific region.
JustWatch shows what TV shows and movies have just been added on your favorite providers. Now, you won't miss the latest episode of your favorite show or the new Netflix original movie.
And what about tracking movies and shows? The Watchlist tab is here to help. Just add the movies or shows you've already watched or are planning to. Regarding its downsides, it can be slow while loading the main info and limited customization tools.
Price: Free
3️⃣ Reelgood: Streaming Guid‪e
Reelgood is initially created to define whether some TV series or movies are supported on a specific network. The TV shows and movie tracking is an add-on option. You can select the TV show and click Track in the discover menu. Reelgood can help you track the upcoming episodes with the date and notification reminders.
The service offers integration with IMDb. You can quickly take a look at the TV series you were planning to watch and decide whether to track it. Plus, Reelgood can suggest TV shows and movies based on your watchlist. Rock'n'roll!
Price: Free
4️⃣ Hobi Time: TV Shows Tracke‪r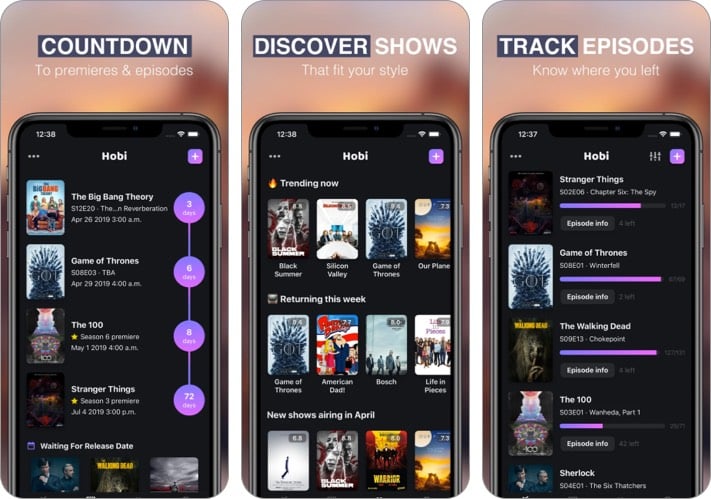 Hobi Time is the app with the coolest aesthetics compared to other TV show and movie tracker apps for iPhone. It goes with a beautiful interface and gradient touches throughout options and menu pages.
The Watchlist menu is the first place the app takes you by default. Hobi is seamlessly integrated with Trakt service. You can bring all your watching habits to the app with just a sign-in.
Plus, there's a detailed Statistics page. There, you can see how much time you have spent watching TV shows and how many episodes you have already finished.
The downside? Lack of social integration. Here, you can't see comments from other users or connect with them. The episode info could also be a bit longer.
Price: Free (in-app purchases starting at $7.99)
5️⃣ TV Time: Track Shows & Movie‪s
TV Time is the creme of the crop in this list. Intuitive interface, no irrelevant suggestions, and a personalized movie and TV show section create a masterpiece loved by many bingewatchers around the world.
In the Discover menu, start adding shows and movies to your own section. The detailed description for each TV show helps you decide faster whether you'll watch the show or not. You can also go to the About section to see all the relevant information anout any TV show with episode ratings and comments from other users included. TV Time also shows where you can stream the selected TV show or movie.
The social integration? Nailed it too! You can create your own playlist and share it with your followers. Follow other people for mutual preferences in movies and TV shows.
Here, you can also see how many hours you have spen watching TV shows and movies. The results can be quite surprising. 😁
Price: Free
Besides the above app mentioned, you can also use Google search "What to Watch" query to get recommendations of movies and shows you might like.
Do note that, Google search presents you these recommendations from some of the popular OTT platforms like Disney Plus, Netflix, Amazon Prime, etc.
Okay, we're done here!
Now, we assume we won't see you for a while since you've got a lot of work to do here. 😂
Hopefully, you'll love one of these tracking apps and will be using it ever since. Enjoy your binjewatching and stay safe