The biggest updates since the release of iOS and iPadOS 14 are now LIVE 🤩
Recently, Apple introduced exciting new features to iPhone and iPad that are available as a free software update. Here's the list of the most notable ones:
🔥 Wearing a Mask? Not a problem!
Now there is no need to take off a mask or enter a passcode to unlock an ‌iPhone‌ when the feature is enabled. With iOS 14.5 and watchOS 7.4, just enable it in the Settings app by going to Face ID & Passcode and toggling on "Unlock with Apple Watch."
Also, it has built-in security functions. The watch locks if you take it off and there is a need to enter a passcode again. A full Face ID scan or passcode is required to authenticate Apple Pay or App Store purchases.
🔥 No more tracking
With the App Tracking Transparency, the app asks for permission to track you across Apple devices. Two options are available: accept and decline. Just go to Settings > Privacy > Tracking and check the new privacy feature.
🔥 5G support
iOS 14.5 introduces 5G Support in Dual-SIM mode on the ‌iPhone 12‌ models and adds support for the company's standalone 5G network for T-Mobile users.
🔥 Apple Maps Crowdsourcing accident
Apple Maps has a new "Report" button that is available on the ‌iPhone‌ and in CarPlay. It displays options to report an accident, hazard, or speed check.
🔥 Fitness at Home
With iOS 14.5, iPadOS 14.5, and watchOS 7.45, AirPlay 2 support is added to the Apple Fitness+ app.
Now workouts can be viewed on a larger screen by those who do not have an Apple TV. However, Apple Watch metrics will not be able to be displayed on the screen as well as activity rings, workout time remaining, calories burned, set length, and burn bars need to be viewed on the connected ‌iPhone‌ or ‌iPad‌.
🔥 ETA for Walking/Cycling sirections
For a walking or cycling route, there's a new option available to send an Estimated Time of Arrival through the Messages app.
🔥 New Emojis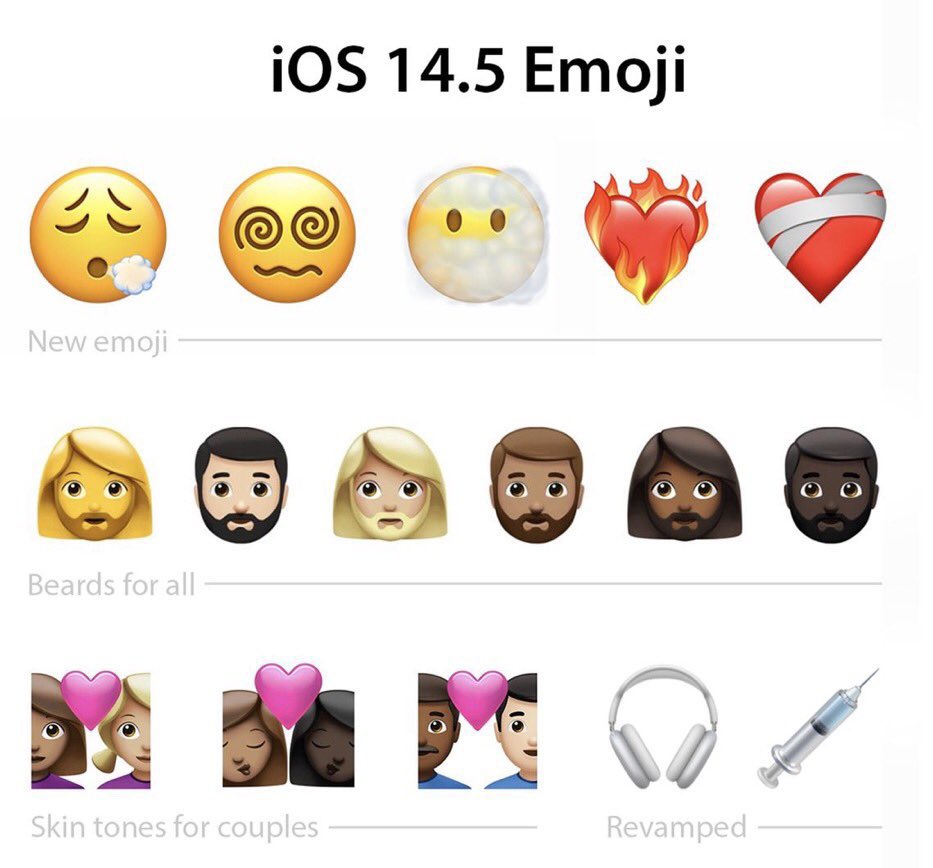 Welcome new emoji characters such as heart on fire, mending heart, exhaling face, face with spiral eyes, face in clouds, along with different gender options for people with beards and skin tone mixes.
🔥 Siri improvements
Siri intelligence feature. As soon as the update is installed, Siri will ask you what app you want to use. After tapping one of the options, it will become the default for future commands.
‌Siri‌ no longer has a female voice. At Setup, it is possible to choose a preferred ‌Siri‌ voice.
Siri can announce incoming calls, dial emergency contacts and create Group FaceTime calls.
🔥 Expanded Controller support
Now, the latest PlayStation 5 DualSense and Xbox Series X controllers with the ‌iPhone‌ and the ‌ iPad ‌ are available for use. Just connect the controllers to the Apple TV with the tvOS 14.5 updates and have fun.
🔥 Battery recalibration
The update recalibrates the maximum battery capacity and peak performance capacity on ‌iPhone 11‌, 11 Pro, and 11 Pro Max. It addresses inaccurate estimates of battery health reporting.
🔥 Podcasts App changes
Podcasts under "Shows" are redesigned that is much easier in use.
The "Subscribe" language is replaced with "Follow" options.
Search tab lets users browse through different categories.
Podcast episodes can be saved and downloaded that allows automatically adding them to the Library for quick access.
Notification settings can be customized on a show-by-show basis.
Other new features provided with iOS 14.5:
🔥 AirTags support
With iOS 14.5, AirTags‌ can be tracked within the Find My app via sound and can be found through the ‌Find My‌ network by utilizing the iPhones, iPads, and Macs of people who are nearby a lost item.
🔥 Apple Music changes
These updates include lyrics sharing, new options such as "Play Last" and "Show Album", a new button to access a whole range of options for a song.
🔥 Reminders App changes
It can be sorted by the due date, creation date, priority, and title.
🔥 Apple News app provides a new Search tab
The News+ section has been redesigned with a "For You" feature.
🔥 Translate App updates
Now, the app has the ability to adjust the playback speed by long-pressing the play button when listening to a translation out loud.
🔥 Apple Watch iCloud Settings changes
Now it lets you choose whether or not to back up the Apple Watch to the cloud.
🔥 Beats Headphones & Belkin Wireless Earbuds support
You can find Beats Headphones & Belkin Wireless Earbuds can now be supported in Find My App
🔥 MagSafe Wallet improvement
It now has a stronger and more noticeable haptic vibration in ‌iPhone 12‌
🔥 Emergency Alerts settings
It is possible to disable an "Always Deliver" feature in order to not play a sound when the Volume/Ringer is silenced. But Alerts for earthquakes, tsunamis, and other similar emergency alerts will cause your iPhone to sound, and alarm, according to Apple's code.
iPadOS 14.5 Features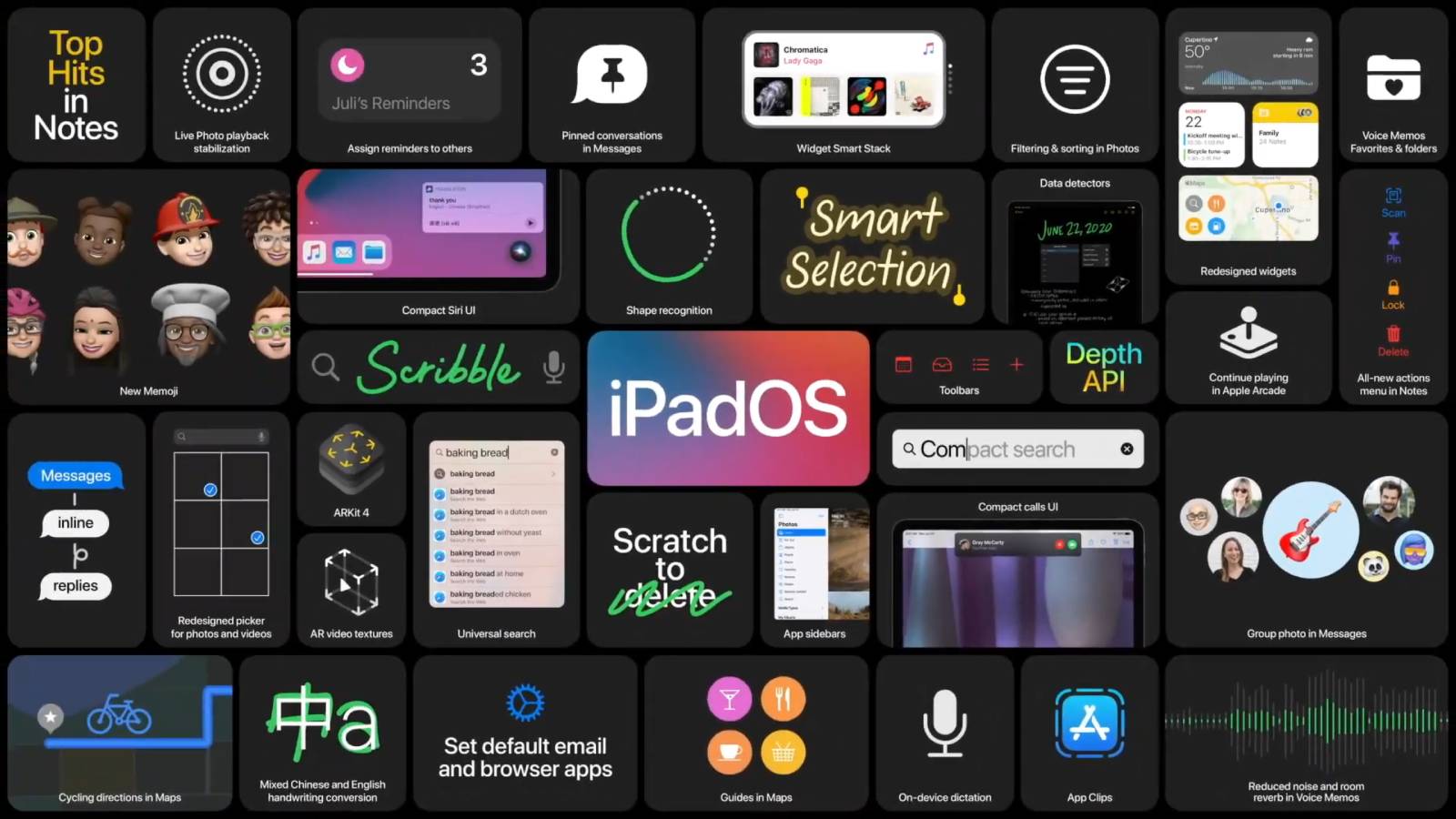 If your ‌iPad‌ is positioned horizontally, Apple logo will show up this way.
Search for a specific emoji is now available.
Scribble feature is compatible with German, French, Spanish, Italian, and Portuguese.
Apple uses Google's "Safe Browsing" database, which can allow Google to collect IP addresses in order to power the feature of Fraudulent Website Warning.
Extended PAC security provisions that are designed to make zero-click attacks more difficult to execute are included.
Excited now? Update your device with the new iOS then! It has to be a great ride and a new big chapter in Apple's history, so why not be a part of it? 😏